Metal awards
We represent metal awards maker in Lagos and cast metal award plaques which are mostly called metal resin awards and come in different shapes and designs to depict the model or nature of award they represent. They are available in education, music, arts, athlete, soccer, swimming and much more. Each has its own mould. Gold dominated this categories of award. Some come in combination of crystals and are called metal crystal awards. They are a cost effective or affordable . Most people see the design in bronze and brass  with metal effect.
The technique is usually involves coating the inside of a mould with finely powdered metal (bronze, brass).  Thereafter the mould is filled with the resin. The cast is then removed from the mould and what we have is a solid resin object with a thin outer coating of metal. The piece can then be polished like a conventional metal casting and then can either be partly painted or left un-painted. This is what we do exactly in Excellence Awards International and most especially with our international business partners. Most of the metal awards we made in Lagos are as seen in the picture gallery.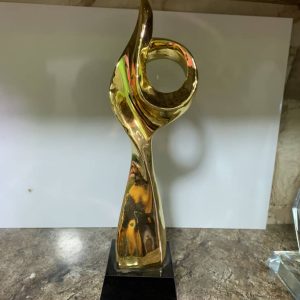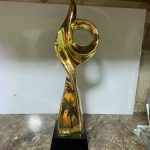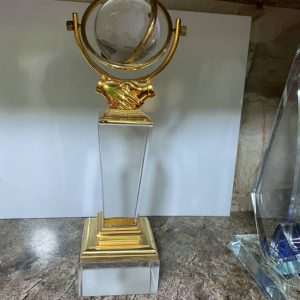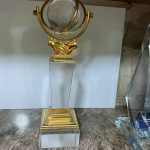 Who we are as metal awards maker in Lagos
We have been operating since 2006 and with this experience in the award plaques, Trophies, Medals and Branding business, we are confident to say, we are the best award plaques maker in Lagos, Nigeria.  We help corporate bodies, schools & government agencies promote the culture of excellence in the workplace through plaques and recognition awards. That is why stand out as metal awards maker in Lagos, Nigeria. Metal award plaques are unique and represent quality on the hallmark of excellence just like other awards.
Our production gallery comprises, crystal award plaques, acrylic award plaques, wooden award plaques, 3D crystal cubes, sport trophies, sport medals, lapel pins, mugs, key rings