MAKE MONEY IN AWARD PLAQUES & BRANDING BUSINESS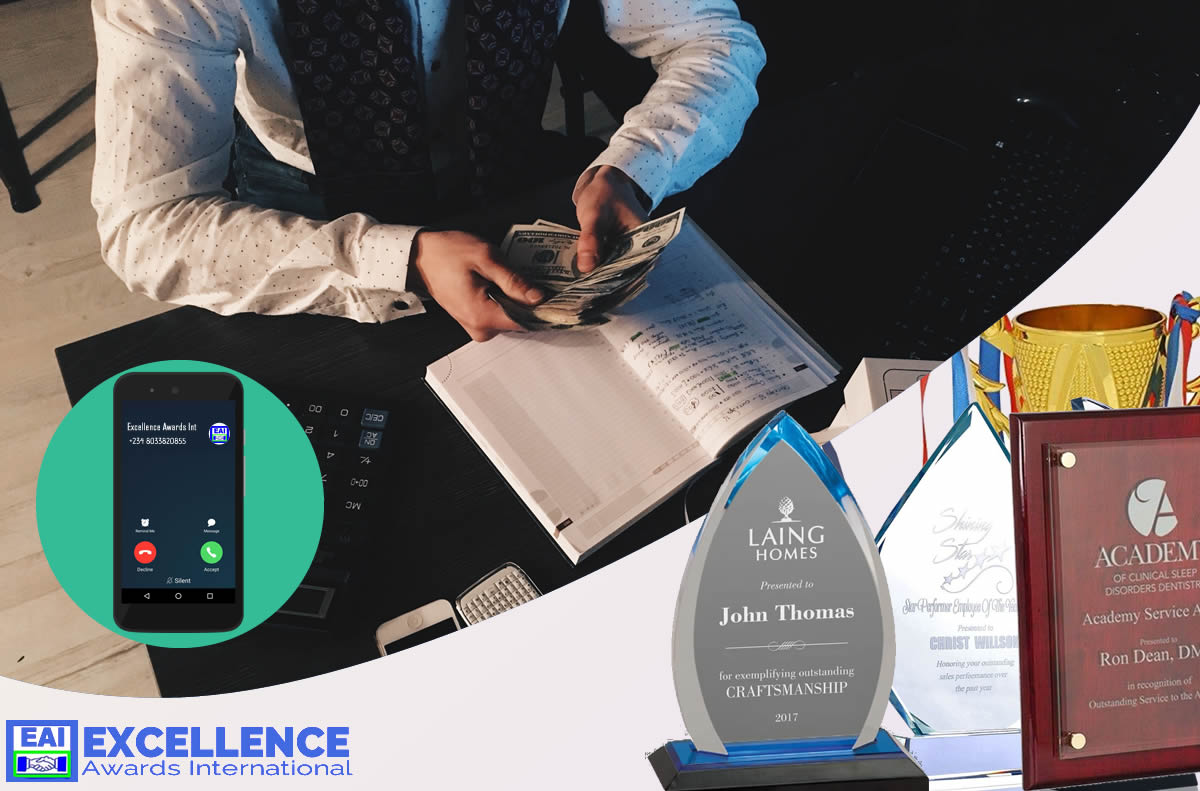 No matter your current job. And whether you are even working or not, a student or corps member. Hear this, it is advisable to leverage on opportunities out there to generate alternative source of income. This is one sure way to make money and ensure its stay flow.  There are so many platforms you can leverage on to make money. One of them is award plaques and branding business.
In this article, we will open your eyes and guide you on step by step procedure. I bet you, money will be hitting your account on daily, weekly and or monthly basis. A business person or an entrepreneur has no specific time of alert in his or her account. The only thing you need is your determination and passion to make money. And your only tool is your phone. In this article we will be looking at the following headlines
Your phone, award plaques and branding business
How do I get involved
Getting started
Knowing your customers
Reaching out to your potential customers
Closing the deal and branding the award plaques and souvenirs
Amount and cost of production
Conclusion
YOUR PHONE, AWARD PLAQUES AND BRANDING BUSINESS
Unfortunately, millions of mobile phone users don't make use of quarter of their phones functions. The highest they can use is face book and WhatsApp. And the highest activity is simply chatting. While waste your data while you can use it take make money in millions. If you know quarter of what your phone can do to you, you will never go broke in your life.
What I will show you will not be restricted on the award plaques and branding business alone, but if you get it right here you will apply it on any other business. Do you even know that you can register your business on line and promote it on google my business without a dime all on google platform.
Luckily enough, google is the highest search engine in the world. All you need is your gmail account. Like I said, your number one tool is your Smartphone. Now, to make money in award plaques and branding business is as simple as a b c, but the question is, how do I get involved?
HOW DO I GET INVOLVED?
You can only be involved this with your primary tool which is your smartphone, laptop and or desktop. But the easiest is your smart phone simply because of business deal on the go. Then, you must be our facebook group member for easy access of the information. If you have not yet joined the group, kindly join now with this link; https://web.facebook.com/groups/346084465445161/watch_parties/ .
As a member, you will be provided with marketing ideas on how to reach out to your target audience. You can call them customers. The more you have these customers, the more you make money in the business, Don't worry, we will show you how. You don't have to step out of your house, as long as your phone is in your hand. It will never be a distraction to your current job either. Otherwise, the aim is defeated. Remember, the objective is for you to have alternative source of income. Bet me with this you can get started.
GETTING STARTED
In order to get started and excel smoothly, product knowledge is the key. This is simply understanding the product you are selling. Here our main products are award plaques, souvenirs and their branding. Both go hand in hand though. Kindly note that we have direct affiliation with Excellence Awards International. And all the supplies will be from the company.
Here are our major products and services. If you want to read more about them, follow their respective links. That is product knowledge.
Sports medals and trophies– https://excellenceawardsng.com/medals-and-trophies-in-lagos/,
Photo frames– https://excellenceawardsng.com/photo-frame-in-lagos/,
Acrylic awards– https://excellenceawardsng.com/acrylic-award-plaques/,
Crystal awards– https://excellenceawardsng.com/crystal-award-plaques/,
Wooden awards– https://excellenceawardsng.com/crystal-award-plaques/ ,
3D Crystal– https://excellenceawardsng.com/3d-crystals/,
There are other products of which you will read up from the website but these ones are the simplest ones for a starter. Having known your products, the next is knowing who your customers are.
KNOWING YOUR CUSTOMERS IN AWARD PLAQUES BUSINESS
Let's show you who your customers are and how you can convert them into money through regular alert in your account. Money is in people. Ask Mark Zuckerberg the owner of Facebook or Aliko Dangote, the current richest man in Nigeria and Africa. You may be surprise that your potential customers are
1. Your phone contacts-yes, those people you call and chat with daily. Even those you don't call and chat.
2. Your church members
3. The school your children/ward are attending. The ones you/relations attended
4. Society/associations you belong to
5. The company/organizations you are currently working in
6. Friends
7. WhatsApp groups, face book and other social media contacts and much more.
8. Referrels-asking your friends to recommend people to you
These are clues of where you can source for your customers. In fact, the list is endless. I bet you, these people in one way or the other are looking for people who are designing, producing and marketing award plaques and souvenirs.
In most cases, you might have been involved in the committee either in your church, or association where award giving was discussed and before you somebody was called and contracted it to. Never mind, the business will not pass you by again. When next such happen boldly let them know that you are into the business or you know those who are into it. Anyway, reaching out and building business relationship is the key.
REACHING OUT TO YOUR POTENTIAL CUSTOMERS IN ORDER TO MAKE MORE MONEY
Now, with all these potential customers, all you need is to reach out to them. Let them know that you are into award and branding business. Once you tell them through calls, text messages, whatsapp and so on, be rest assured that it has registered in them. All you need to do is to follow up. Keep reminding them occasionally. I assure, anywhere the award giving is discussed, you will be the first vendor to mention.
You may draft a message like this.
"Greetings from 'YOUR NAME'. We are into design, production/branding and marketing of award plaques and souvenirs. I will send you our samples shortly. Please, give me a call when the need for the plaques and souvenirs arise in your office, company, school as the case may be. Thank you. YOUR NAME. CONTACT NUMBER. Just change the name and number to reflect yours. Keep flowing up by any means especially the WhatsApp. And you will thank me latter.
You can download samples from our face book page through this link; https://web.facebook.com/pg/ExcellenceAwardsIntl/photos/?ref=page_internalhere or from our website www.excellenceawardsng.com. Once you get green light or anybody that shows interest, you can hand him or her over to us to conclude the deal for you. If you have the potential to conclude the business great, then we will take over the production.  click this link to chat us up in any occasion of instant direction where necessary.
CLOSING THE DEAL AND BRANDING THE AWARD PLAQUES AND SOUVENIRS
In order to achieve and conclude your business easily always involve our team. Our team is made up of experience marketing, graphics and production expert. This team will help you handle some of the technicalities involved in products and rejections. Rejections just like 'no' in marketing in most cases is a healthy sign of interest calling for more explanation.
Also most customers will not only want to see the samples but the graphic designs that will enable them make decisions. And finally the productions of the sealed deal. This is transforming all your discussions into reality. You don't have to worry here, because at this stage, you should be expecting your alert once the the delivery is made or as the case may be.
If you decide to send us the contact of the person as a referral, its also perfectly okay because, we will do all the necessary follow ups and conclude the deal for you. Thereafter, your alert. The amount you receive depends on the quantity and the cost of production.
AMOUNT AND COST OF PRODUCTION
All our products have their prices which you will know in due course. Therefore, when you seal or we help you seal up any deal, the number one thing is to make necessary purchase and do necessary branding. The cost of doing this will be removed and the balance shared 50 : 50 between you and the company.
The amount you receive can't be quantified. In this you will know that to make money in award plaques and branding business is a gold mine and in it, you can close a deal of 50k, 100k, 500k, 1m and  above and you can imagine what goes to your account on each deal. And it follows continuously as long as you are persistent and consistent. So, its all about determination and passion to succeed.
CONCLUSION
Upon delivery of the work, your money will be transferred to your account. The beauty of this is that you will be at the comfort of your home or office and conclude every business. All you need in this business to succeed is to make follow up calls or whatsapp messages. If you want to reach us on whatsapp just click this link and you will get instant response. Or call 08033820855.
We wish you success in this new business and be determined to make money in award plaques and branding business and we believe that you will be persistent and consistent which is an ultimate guarantee to steady alert to your bank account.
Facebook Comment